Čtvrtek 30. 4. 2015
Vstupné zdarma.
Stánky a prezentace sponzorů budou k navštívení po celý den v hlavních prostorách konference.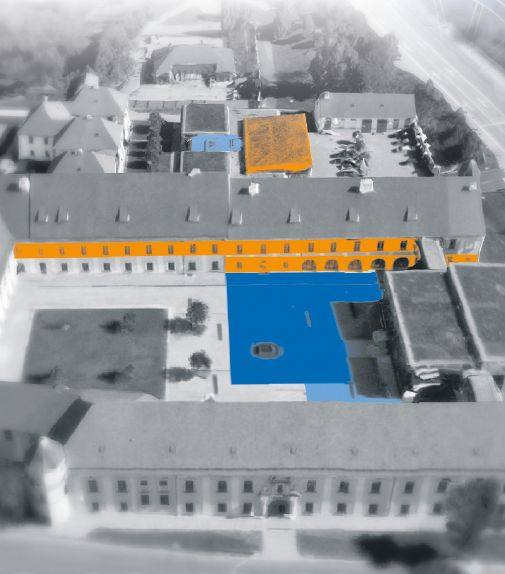 Prezentace prací
V dopoledním bloku budou v hlavním sále konference autoři vybraných prací prezentovat své výsledky. Vybraní autoři v 15ti minutových prezentacích představí výsledky své tvůrčí činnosti.
Marek Žák
Hexapod, Legged chassis, Walking robot, Hexapod gaits
Robotika a umělá inteligence
This paper aims on design, construction and control of hexapod robot, which is six-leg walking robot. Basic characteristics of legged robots, a few existing robots and their pros and cons are described. Paper also describes basic gaits, which are used by legged robots for their locomotion. Result of this project is a legged robot, which can walk using tripod, wave and ripple gait and is equipped with sonars, force-sensitive resistors and encoders. Robot is controlled and monitored from user interface program. It can display data from sensors and positions of robot's legs. The robot can be used to test and verify algorithms, gaits and features of walking robots.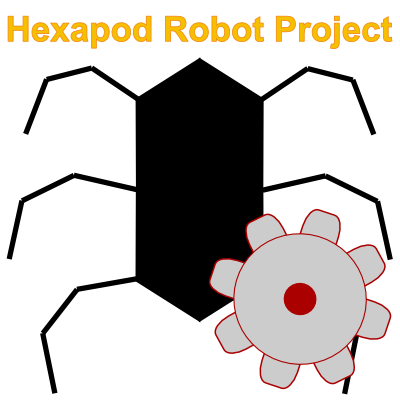 Michal Wiglasz
Koevoluční algoritmus, Kartézské genetické programování, Genetický algoritmus, Plasticita fenotypu, Predikce fitness, Obrazový filtr
Nekonvenční výpočetní techniky
Kartézské genetické programování (CGP) se využívá zejména pro automatizovaný návrh číslicových obvodů, ale ukázalo se být úspěšnou metodou i pro řešení jiných inženýrských úloh. Časově nejnáročnější částí výpočtu je vyhodnocení kvality kandidátních řešení. Bylo ukázáno, že evoluci je možné urychlit pomocí koevoluce s prediktory fitness, které slouží k přibližnému určení kvality kandidátních řešení. Nevýhodou koevoluce je nutnost provést mnoho časově náročných experimentů pro určení nejvýhodnější velikosti prediktoru pro daný problém. V tomto článku je představena nová reprezentace prediktorů fitness s plastickým fenotypem, založená na principech souběžného učení v evolučních algoritmech. Plasticita fenotypu umožňuje odvodit různé fenotypy ze stejného genotypu. Díky tomu je možné adaptovat velikost prediktoru v průběhu evoluce na obtížnost řešeného problému. Z experimentů vyplývá, že lze dosáhnout srovnatelné kvality jako u standardního CGP při kratší době běhu programu a zároveň odpadá nutnost hledání nejvýhodnější velikosti prediktoru.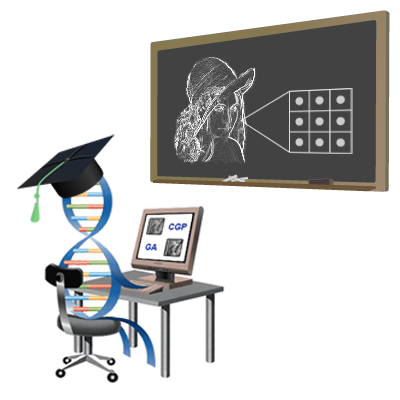 Tereza Černá
Detekce registračních značek vozidel, Klasifikace znaků, Kaskádový klasifikátor, MSER
Zpracování dat (obraz, zvuk, text apod.) Počítačová grafika
Cílem této práce je detekce registračních značek vozidel a rozpoznání jejich textu. Základním přístupem pro detekci je využití kaskádového klasifikátoru. Práce je rozdělena do tří hlavních kapitol -- získání datové sady, detekce značek a rozpoznání znaků. Datová sada byla pořízena na území města Brna přímo pro účely této práce a sloužila k trénování a vyhodnocení detektorů. Další dvě části pojednávají o přípravě pozitivních a negativních vzorků dat a jejich použití při trénování kaskádového klasifikátoru. Úspěšnost detekce registračních značek byla vyhodnocena na dvou datových sadách s výsledky 100 % a 98.47 %. Aktuálně se autorka zabývá rozpoznáním znaků a~sestavením registrační značky.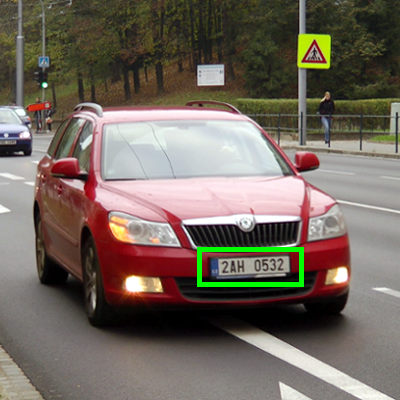 Jiří Hon
Příbuzné proteiny, Ověření funkce proteinu, Zachování aktivního místa
Bioinformatika
Hledání příbuzných enzymů v biologických databázích patří mezi obvyklé činnosti v oblasti proteinového inženýrství a pro tento účel existuje řada zavedených nástrojů. Chceme-li však stávajícími nástroji hledat příbuzné enzymy s modifikovanou funkcí - a zamýšlíme tím modifikaci pouze ve smyslu rychlosti reakce, stability enzymu apod., nikoliv přímo typu enzymatické funkce - pak spoléháme na slabou hypotézu, že sekvenčně podobné enzymy mají pravděpodobně stejný typ funkce. Důsledkem toho je buď příliš velké množství nežádoucích výsledků vyhledávání, nebo naopak jejich nedostatečná různorodost. Proto ve spolupráci s Loschmidtovými laboratořemi navrhuji rozšířit současné nástroje o nové filtrační kroky omezující výsledky pouze na relevantní enzymy, jejichž základem je zohlednění pozice a typu katalytických reziduí hledaného enzymu a doplnění anotací. Implementací a aplikací filtračních kroků se mi podařilo dosáhnout řádového snížení počtu výsledků při zachování jejich různorodosti a díky tomu jsem usnadnil a zlevnil výběr zajímavých sekvencí v množině nalezených putativních enzymů, které by mohly mít vhodné vlastnosti pro proteinové inženýrství a vyplatilo by se investovat do jejich experimentálního ověření v laboratoři.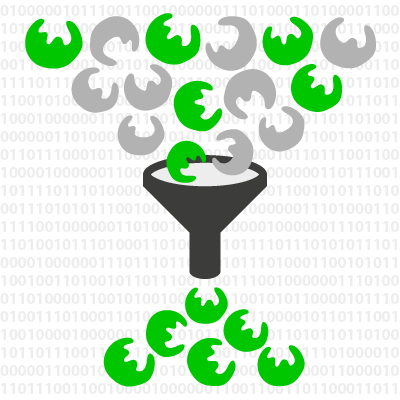 Miloš Musil
Amino acid substitutions, Phylogenetic analysis, Mutations, Mutation effect prediction
Bioinformatika
Many genetic mutations are single nucleotide polymorphisms (SNPs). Significant number of genetic diseases is caused by non-synonymous SNPs manifested as single point mutations on the protein level. The ability to identify deleterious substitutions could be useful for protein engineering to test whether the proposed mutations do not damage protein function same as for targeting disease causing detrimental mutations. However the experimental validation is costly and the need of predictive computation methods has risen. Here we introduce a new in silico predictor based on the principles of phylogenetic analysis and dissimilarity between original and substituting amino acid physico-chemical properties. Developed algorithm was tested on four datasets with 78,650 mutations from 16,256 sequences in total. The predictor yields up to 72% normalized accuracy and in the comparison with the most existing tools, it is substantially less time consuming. In order to achieve the highest possible efficiency, the optimization process was focused on selection of the most suitable (a) overall decision threshold, (b) third-party software for calculation of a multiple sequence alignment and (c) a set of decision features / physico-chemical properties. To cope with the last mentioned problem, two feature selection methods were tested on the database of 544 possible properties.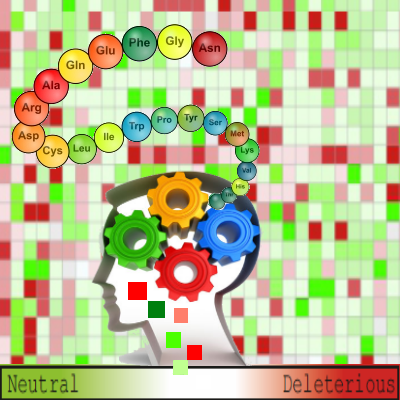 David Kovařík
modeling, simulation, visualisation, data-flow graphs
Modelování a simulace Testování, analýza a verifikace
Data-flow graphs are, for their native support of high level of parallelism, often used by hardware designers. However, such graph representation is also very useful for performing deeper analysis of the design (including functional or formal verification). Simulator presented in this paper is a support tool for verification environment HADES. The goal of the simulator is to perform an efficient simulation of a verified model and to enhance user's knowledge about the model and its behavior. To perform a simulation efficiently, we introduce a specific simulation algorithm which saves computation time by eliminating redundant evaluations. The simulator is equiped with several output interfaces connected to a single simulation core. One output interface provides direct simulation output in text format. The second is also textual, but allows user to enter commands in order to control the simulation. Finally, the third forms a graphical interface in order to visualize results of simulation process. Thus, the simulator provides a scriptable command line interface to let users write automated tests as well as a powerful visualization tool for users to better understand behavior of the model.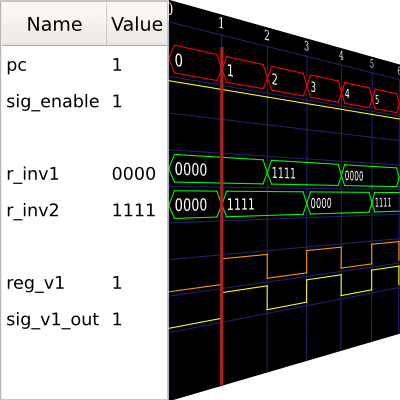 Jakub Martiško
Grammar Systems, Parsing, Formal Languages
Překladače a gramatiky
Most commonly used parsers are based on the model of context free languages and grammars.This type of grammar is relatively simple to describe and design, however its descriptive poweris quite limited. One of the researched approaches, which deals with this problem are grammar systems. Using the combination of more simple grammars (usually context free), grammar systems are able to describe even some context sensitive languages while maintaining relative simplicity of context free grammars. This paper proposes modification of one of the variants of grammar systems. Parser, based on this modification, is also described in the paper. This proposed parser is able to parse same set of languages that are parseable by commonly used types of parsers and even some more complex languages.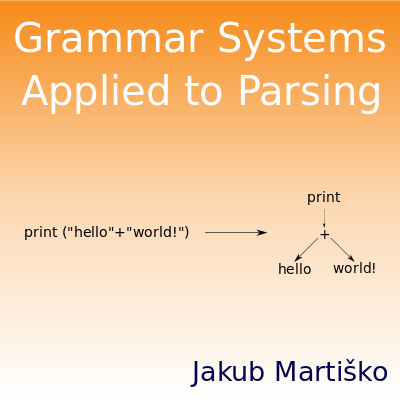 Jan Vašíček
Odhad nadmořské výšky, Konvoluční sítě, EXIF data
Zpracování dat (obraz, zvuk, text apod.)
Tato práce se zabývá automatickým odhadem nadmořské výšky kamery z obrazu. Úlohu jsem řešil pomocí konvolučních neuronových sítí, u nichž využívám schopnost učit se nové příznaky na základě trénovacích dat. Trénovací sada obrazů (dataset), která by obsahovala údaje o nadmořské výšce kamery, nebyla k dispozici, a proto bylo nutné vytvořit dataset nový. Schopnosti člověka v dané úloze také nebyly dříve testovány, proto jsem provedl uživatelský experiment s cílem změřit průměrnou kvalitu lidského odhadu nadmořské výšky kamery. Experimentu se zúčastnilo 100 lidí a výsledky ukazují, že průměrná chyba odhadu člověka je 879m. Automatický systém založený na konvoluční neuronové síti dosahuje lepších výsledků než člověk, neboť průměrná chyba odhadu se pohybuje okolo hodnoty 751m. Navržený systém může kromě samotného odhadu nadmořské výšky z obrazových dat nalézt uplatnění také ve složitějších úlohách, jako je vizuální geo-lokalizace kamery.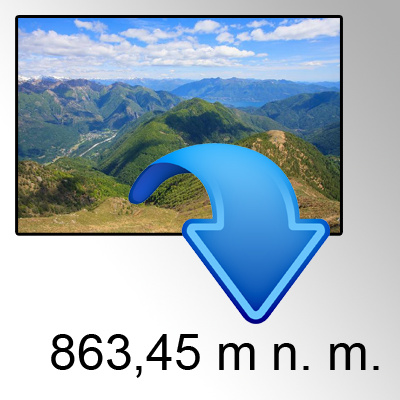 Martin Šimon
object tracking, bidirectional tracking, partial occlusion, long-term tracking, full occlusion, rough camera movement
Zpracování dat (obraz, zvuk, text apod.) Počítačová grafika
Visual object tracking with focus on occlusion, background clutter, image noise and unsteady camera movements, those all in a long-term domain, remain unsolved despite the popularity it experiences in recent days. This paper summarizes a related work which has been done in trackers field and proposes an object tracking system focused on solving mentioned problems, especially the occlusion, rough camera movements and the long-term task. To solve these problems we propose a system combined from three parts; the tracker, which is the core part, the detector, to re-initialize tracker after a failure or an occlusion, and a system of adaptive learning to handle long-term task. The tracker uses newly proposed approach of bidirectional tracking of points, which are generally weaker then commonly used keypoints. Outputs of both the tracker and the detector are fused together and the result is also used for the learning part. The proposed solution can handle mentioned problems well and in some areas is even better then the state-of-the-art solutions.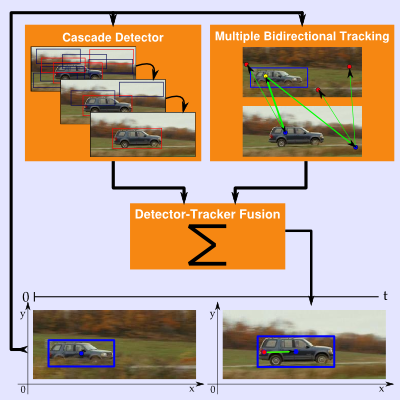 Petr Dvořáček
kartézské genetické programování, aproximační počítání, optimalizace
Počítačová architektura a vestavěné systémy Nekonvenční výpočetní techniky
V posledních letech klademe stále větší důraz na energetickou úspornost integrovaných obvodů. Můžeme vytvořit aproximační obvody, které nesplňují specifikovanou logickou funkci, a které jsou cíleně navrženy ke snížení plochy, zpoždění a příkonu. Tyto přibližně pracující obvody lze využít v mnoha aplikacích, kde lze tolerovat chyby, obzvláště ve zpracování obrazu. Tato práce popisuje evoluční návrh aproximačních obvodů pomocí kartézského genetického programování (CGP). Díky paralelnímu výpočtu fitness a různým akceleracím byla urychlena evaluace 8-bitové násobičky více než 170 krát oproti standardnímu přístupu. Pomocí inkrementální evoluce byly vytvořeny různé aproximační násobičky a použity v procesu potlačení nemaximálních hodnot v detekci hran.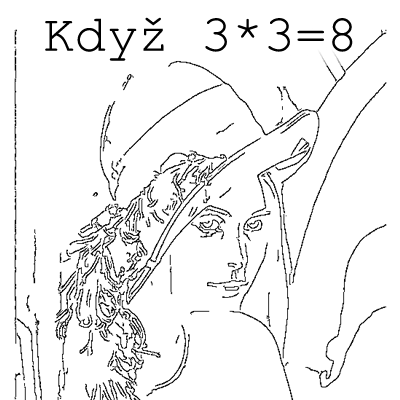 Kateřina Žmolíková
speech recognition, deep neural networks, acoustic modelling
Zpracování dat (obraz, zvuk, text apod.)
This paper presents a modification of neural network structure in speech recognition system which leads to improving the accuracy of the system. Deep neural networks are widely used as a part of acoustic model which aims to predict the score of acoustic units given the speech signal. The input of deep neural network is a sequence of speech frames. Typically the network tries to classify the central one of these frames while using the context frames as an additional information. In the multiframe model the output of the network is extended to predict classes of multiple frames. This modification leads to obtaining multiple predictions for one frame. Combining these predictions results in better accuracy of the network. The approach was tested on Wall Street Journal dataset. Experimenting with different sizes of the context on the input and output of the network lead to 7% and 12% relative improvement on two testsets.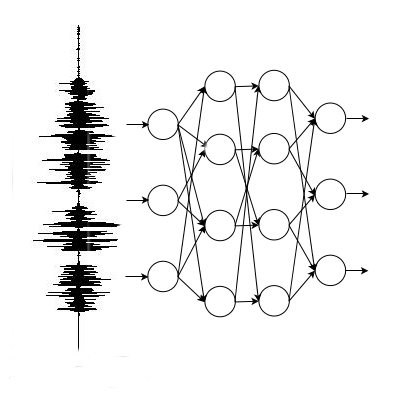 Jan Bednařík, David Herman
Human gesture recognition, Human tracking using depth sensor, Human tracking from top view, 3D human body pose, Human model fitting, Articulated human model, Depth sensor
Zpracování dat (obraz, zvuk, text apod.) Počítačová grafika
In this paper we present a system suitable for real-time human tracking and predefined human gestures detection using depth data acquired from Kinect sensor installed right above the detection region. The tracking part is based on fitting an articulated human body model to obtained data using particle filter framework and specifically defined constraints which originate in physiological properties of the human body. The gesture recognition part utilizes the timed automaton conforming to the human body poses and regarding tolerances of the joints positions and time constraints. The system was tested against the manually annotated 61-minutes-long recording of the depth data where ten different people were tracked. The 92.38\% sensitivity was reached as well as the real-time performance exceeding 30 FPS. No a priori knowledge about the tracked person is required which makes the system suitable for seamless human-computer interaction solutions, security applications or entertainment industry where the position of sensors must not interfere with the detection region.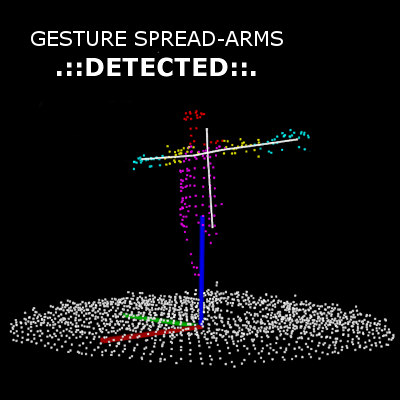 Soutěžní přehlídka
Vybrané práce na soutěžní přehlídku budou prezentovány plakátem a často i demonstrátorem nebo prototypem řešení. Každý návštěvník tak bude mít možnost si autorská díla v klidu prohlédnout, osobně se s autorem práce setkat, zjistit si detaily řešení a prodiskutovat další možnosti a nápady.
V průběhu přehlídky bude probíhat hlasování o nejlepší práce v různých kategoriích. Každý návštěvník bude mít možnost vyjádřit svůj názor a volit v různých kategoriích.
V jakých kategoriích mohu hlasovat?
Jsem akademický nebo vědecký pracovník FIT.

Technologická úroveň

Vědecký přínos

Výborný nápad

Společenský přínos

Jsem návštěvník ze sponzorské firmy.

Inovační potenciál

Obchodní potenciál

Výborný nápad

Společenský přínos

Jsem běžný návštěvník.

Výborný nápad

Společenský přínos
Konkrétní způsob hlasování bude zveřejněn a představen až v den a místě konání soutěžní přehlídky.
Slavnostní vyhlášení
V hlavním sále konference proběhne na závěr odpoledního bloku vyhlášení 5ti nejlepších prací v každé z 6ti kategorií a předání cen. Závěrečné pořadí prací určíte Vy, každý hlasující návštěvník konference Excel@FIT 2015, svýmy hlasy, které v průběhu přehlídky autorům udělíte.
Kulturní program
Na závěr konference Excel@FIT proběhne na nádvoří FIT VUT doprovodný kulturní program.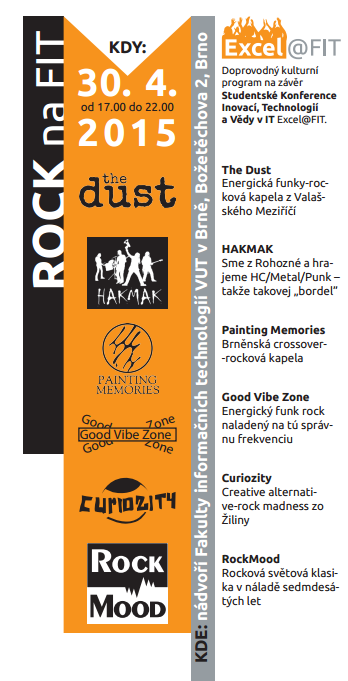 Vybrané práce na soutěžní přehlídku
NAHORU